Commitments piling up for Cyclones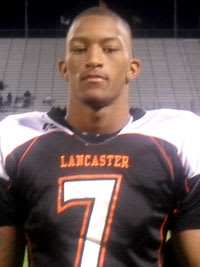 Lancaster (Tex.) cornerback
Matt Thomas
made a verbal commitment to Iowa State this weekend while on an official visit to ISU. The 5-foot-10, 175-pound Thomas talked to
CycloneReport.com
on his way back home after seeing Iowa State in person and making his decision.
"Seeing how they work education into the overall experience of being a football player there is what really did it for me," Thomas said. "It was just all they can provide for me as a student. Football is great and it what makes this possible but I am going to college for college." Thomas said he plans to major in pre-dentistry.
Iowa State was the lone Division I-A scholarship offer that had come Thomas' way heading into his visit weekend and it will probably stay as such now that he has committed. Other strong interest of late had been coming from Utah of the MWC and Louisiana Tech of the WAC, Thomas said.
Thomas reflected on his ISU visit by saying that it was set up very well and told him all he needed to know about the Cyclone program.
"I got to see them practice," said Thomas. "I spent a lot of time with the defensive backs and learned more about what its like for them. We ate good, we ate a lot, and they showed us everything we could possibly want to see. I didn't leave with any questions left about it."
Thomas said he is being recruiting strictly to play cornerback for Iowa State.