2012 guard says he is committed to Cyclones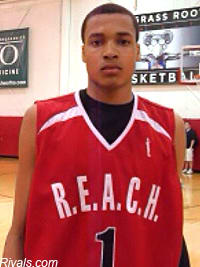 2012 guard prospect
Sherron Dorsey-Walker
said via twitter and facebook Monday night that he has verbally committed to Iowa State.
The 6-foot-4, 175-pound shooting guard from Detroit (Mich.) Pershing unofficially visited ISU in September and has indicated he'll officially visit in October. He had a long list of reported scholarship offers, including other high majors like Baylor, Boston College, Florida State, Indiana, Michigan, Minnesota and Virginia Tech.
Assistant coach Cornell Mann was the lead recruiter on Dorsey-Walker. Their relationship started when Mann was an assistant coach at Dayton and started recruiting Dorsey-Walker for the Flyers. Coach Mann picked up with that recruitment after joining Fred Hoiberg's staff at ISU, including extending a fresh offer to Dorsey-Walker from the Cyclones.
Dorsey-Walker is the no. 24 shooting guard and no. 122 player overall in the class of 2012, according to Rivals.com.