Signing Day Preview: ISUs class on defense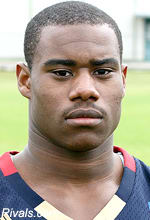 On the eve of national signing day, Iowa State's 2010 football recruiting class is all but finalized. Here's an overview of who will sign with ISU on defense, including those who signed mid-year and are already enrolled in Ames for spring term classes. Stick with the proven authority on Iowa State recruiting - CycloneReport.com - for the very best signing day coverage all this week.
Defensive End
Rony Nelson, 6-foot-2, 250 Pounds, Marysville (Calif.)
Nick Kron, 6-foot-2, 245 Pounds, West Des Moines (Iowa)
Iowa State has one JUCO and one grayshirt ready to sign at the defensive end position.
Rony Nelson
was lightly recruited at Yuba College even though he put up big sack numbers last fall. East Carolina was the other offer for this three-star prospect. Nelson signed with ISU in December and is enrolled for the spring semester.
Nick Kron
will sign Wednesday, go to school part-time at Iowa State in the fall, and then become a full-time student and full-fledged football team member in January 2011. He was a little bit under the radar as a two-star prospect as Valley had a down year (by Valley standards). Kron's step dad is former Cyclone Mike Shindelar.
Iowa State might also sign another JC defensive end
before Wednesday is over, but that is not a certainty.
Defensive Tackle
Brandon Jensen, 6-foot-5, 260 Pounds, Ankeny (Iowa)
Iowa State would certainly take a second defensive tackle on Wednesday if three-star Daytona Beach product
Kenneth Kirksey
decides to sign with the Cyclones. But if he ends up signing with Rutgers, then
Brandon Jensen
will be the lone defensive tackle in the class according to current position projections. Jensen, a two-star prospect, was offered by ISU in September and committed in October. He did not have any other Division I-A offers.
Linebacker
Jeremiah George, 5-foot-10, 191 Pounds, Clearwater (Fla.)
Cqulin Hubert, 6-foot-1, 217 Pounds, Houston (Tex.)
Floyd Mattison, 6-foot-0, 190 Pounds, Katy (Tex.)
The Cyclones have a strong group of linebackers ready to sign on Wednesday in this trio of three-star prospects. First to commit was
Cqulin Hubert
in early October. Hubert, ranked as the No. 33 inside linebacker in the country by
Rivals.com
, also had scholarship offers from Kansas State, Tulsa and others. Later in October, Iowa State coaxed a commitment flip out of
Floyd Mattison
, who had previously pledged to Houston. Mattison is the No. 89 outside linebacker in the country and also collected offers from Oklahoma State and TCU. And in early November, it was
Jeremiah George
who took the plunge and committed to I-State. George is the No. 57 OLB in the nation and also had offers from Kansas and a long list of non-BCS schools.
Cornerback
T.J. McCullough, 6-foot-2, 180 Pounds, Citra (Fla.)
Matt Thomas, 5-foot-10, 175 Pounds, Lancaster (Tex.)
Anthony Young, 5-foot-9, 180 Pounds, San Marcos (Calif.)
Three-star athlete
T.J. McCullough
could end up at corner or safety for the Cyclones but talked earlier this week as if corner was his preference. McCullough committed to Iowa State in late August and he also had offers from Florida Atlantic and Florida International. JUCO product
Anthony Young
is already signed and enrolled at ISU and came in as the highest-rated CB prospect in the class, a four-star.
Rivals.com
also has him ranked as the No. 25 JUCO prospect overall in the country. He was also offered by Nevada, Colorado State and others.
Matt Thomas
is a two-star prospect who committed to I-State in mid-December. He did not receive any other Division I-A offers.
Safety
Adrian Bennett, 6-foot-2, 205 Pounds, Houston (Tex.)
Durrell Givens, 6-foot-0, 195 Pounds, Rancho Cucamonga (Calif.)
Clifford Morgan, 6-foot-2, 195 Pounds, Frostproof (Fla.)
The Cyclones grabbed their first safety commit way back in the summer of '09 when JUCO three-star
Durrell Givens
said he'd sign with ISU. He recorded 47 tackles as a freshman at Chaffey College and last season had one interception and five passes broken up.
Adrian Bennett
is a solid high school three-star who also received offers from Minnesota, New Mexico and others.
Clifford Morgan
is a two-star prospect who was also offered by Colorado State.
Punter
Kirby Van Der Kamp, 6-foot-4, 180 Pounds, West Des Moines (Iowa)
With four-year starter Mike Brandtner departing, Iowa State invested a scholarship in a punter in the 2010 class and got a commitment from Kirby Van Der Kamp way back in June. Van Der Kamp performed very well in camps under the tutelage of former ISU kicker Jamie Kohl and the Cyclone coaches jumped on the opportunity to get a commitment from Van Der Kamp before his one and only season as Valley's No. 1 punter.